Buckhurst Estate Wedding; Joel and Louise
Odyssey #SelfieMirror
Like many couples this year, Joel and Louise have had to re-organise things multiple times.  Finally, it was 3rd time lucky as all restrictions were off, and they could hold their perfect wedding.
That said, whilst it was all systems go, Covid was still going to try and make life difficult for them.  On just one day with just one week to go, Joel and Louise had three suppliers pull out for different reasons.  So with just 7 days to go, they had to hit the internet and get busy!  A prime Saturday in August, in a year which has had nearly 2 years' worth of weddings crammed into 8 months…. They had they're work cut out for them!
This is when Joel reached out to us to see if we could help. They had arranged for a Selfie Mirror to help them celebrate their wedding, help their guests to have an amazing time, and through the power of photographic magic, create some amazing memories that they can all share for years to come.  Luckily, we had the amazing Odyssey #SelfieMiror available, and even better for us, The Buckhurst Estate is just 5 mins up the road for us!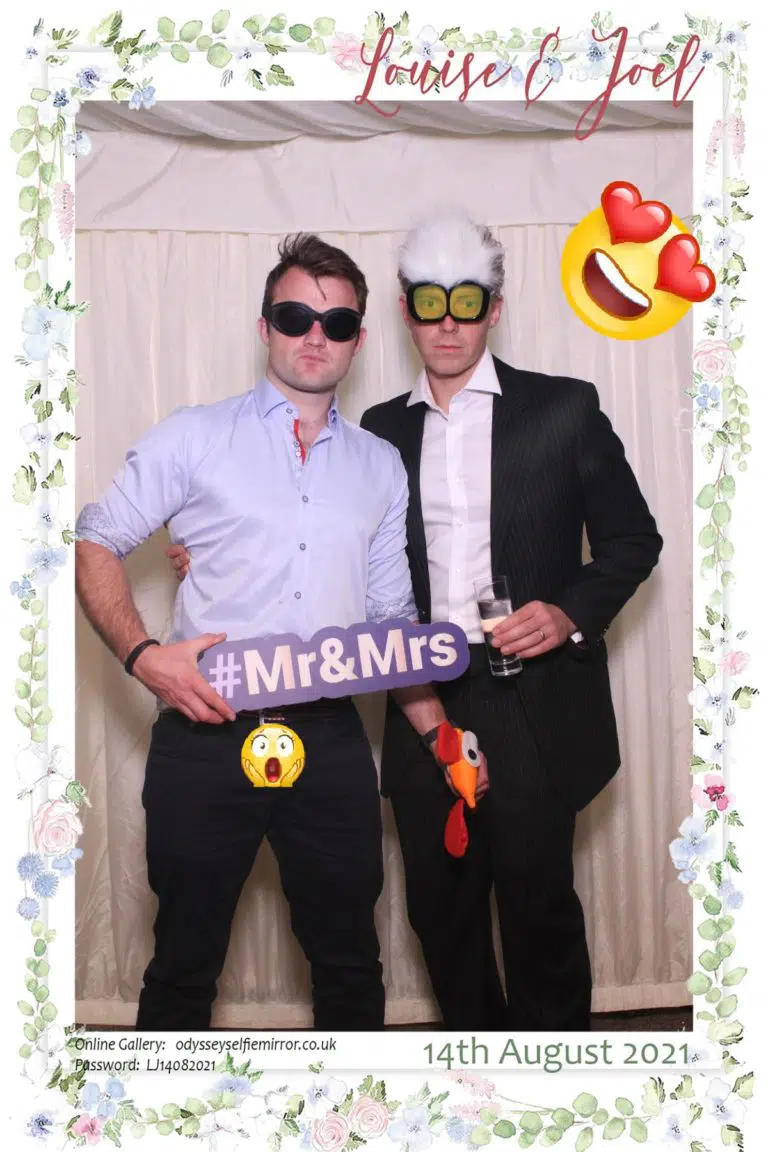 There's no two ways about it, Weddings cost a lot of money.  If you've planned a wedding before you'll know there are some things don't have to cost the earth, there are things that perhaps warrant spending as much as you can and there are things, like a Selfie Mirror or Photobooth that don't have to be mega expensive BUT you have to ask yourself why some companies are so much cheaper than others.  It's for this reason that I wrote a buyer's guide, a useful hints, and tips on how to hire a photobooth.   If you're organising an event and would like a copy, drop me a message via the Contact Form and I'll happily send you over a copy.
Back to Joel & Louise!!…….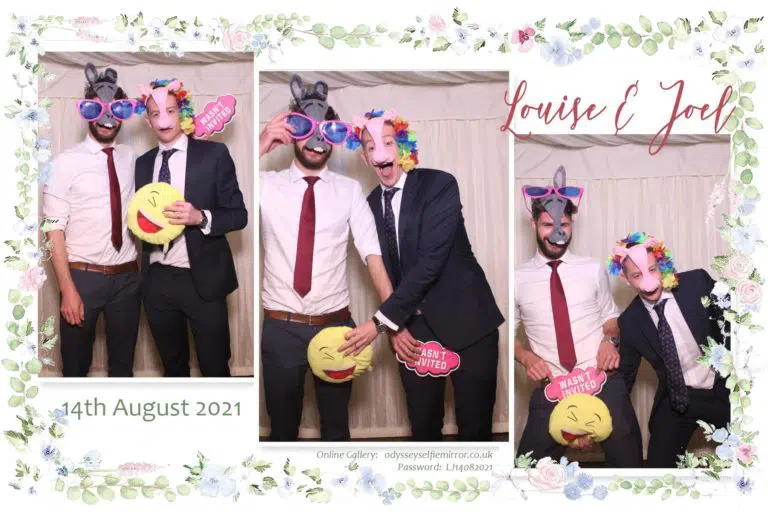 The beautiful Buckhurst Estate was to provide the backdrop for their wedding celebrations.  From the moment you drive up its sweeping driveway, and admire the spectacular views across the gardens, lakes and beyond into Buckhurst Park, you simply can't help but be feel that you are part of something very special. 
Joel and Louise, with the help of friends and family had painstakingly decorated the marquee – it looked truly beautiful!   From the stunning floral table centrepieces, the amazing table plan which contained photos of every single guest right down to the little touches of the special shot "glasses", it really did look truly magical.
We worked with Joel and Louise over the next couple of days to design completely bespoke print artwork for their wedding plus a bespoke touch screen service too.   This meant that their friends and family had the choice of having one large photo or if they fancied a bit of a photo shoot, a three photo option instead.  We see so many wedding photobooth companies using providing no personalisation at all (other than changing the name and dates perhaps!) leading to drab and boring photos.   By spending a bit of time with a couple, we can design artwork that is not only fetching and appealing to the eye, but blends in with the overall theme and design of the wedding too.   Little things can make a big difference.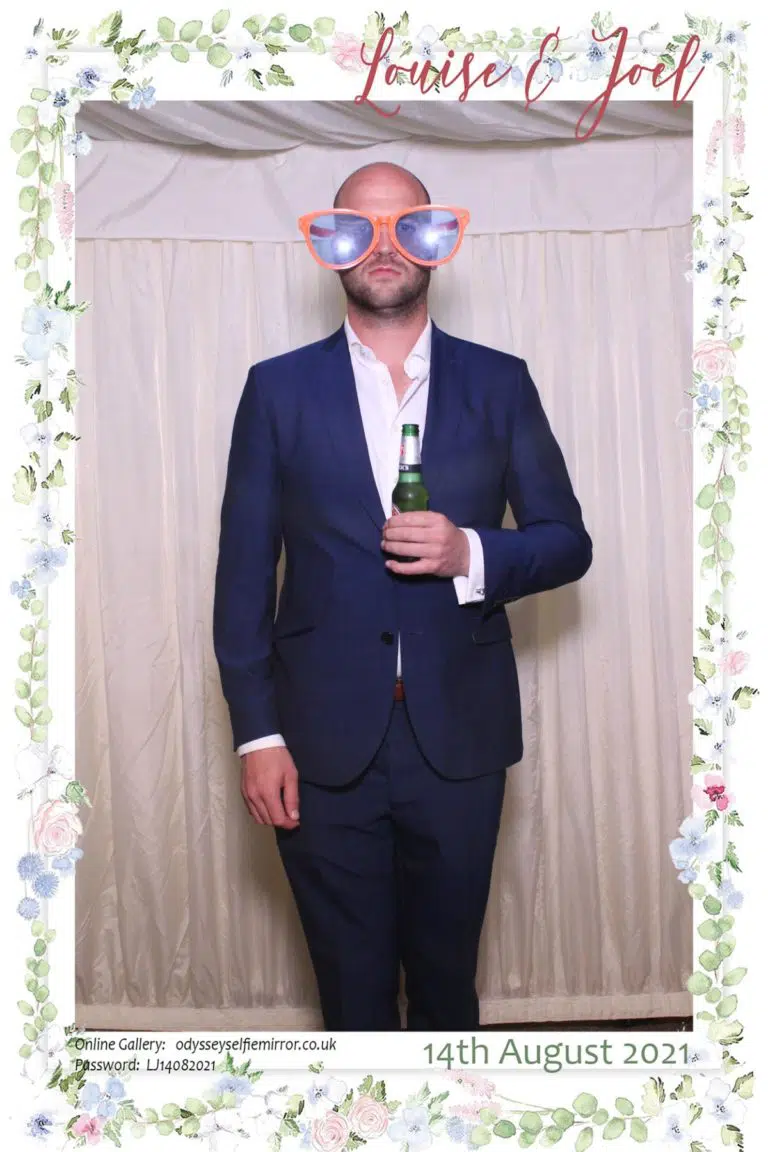 To minimise disruption on the day, we delivered the Selfie Mirror before everyone arrived, and whilst the speeches were well underway, we set everything up so as everyone was able to stretch their legs, we were all set up and ready to go.
We started ahead of time as some of the guests were simply very VERY eager to get going (!) and apart from a short "pause" as Joel and Louise cut the wedding cake and performed their First Dance we were all systems go right from the off.  Despite have a slightly reduced props table (we only used props that we could wipe down in between uses) the end result was fantastic!  Joel and Louise have some amazing friends and family with a truly wicked sense of humour!!   These photographic creations were HILARIOUS!!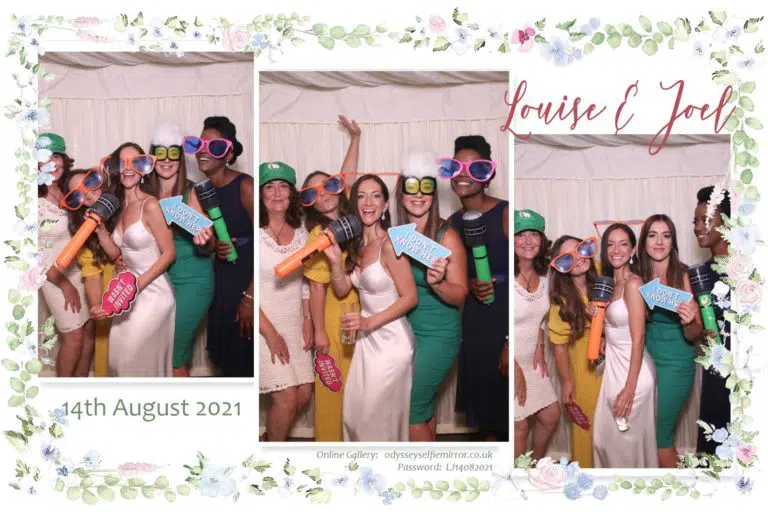 Throughout the evening we created their fantabulous Memory Album; when you book with Odyssey you have a dedicated Booth Butler (or Booth Bitch!) who will just look after the album.  For Joel and Louise it was Maisie who was in charge of the Memory Album.  By the end of the night, the album was jam packed with photos and lovely messages from everyone who had come over and helped to create some memories of this amazing day.
Of course, it's amazing to wake up with your own Selfie Mirror prints to look back on a chuckle, but it's even better to be able to log onto an online album and see what everyone else has done too!!   So, as of Sunday afternoon we published their own personal online gallery…. Password protected of course, we don't want just anyone see these creations!!    The password was part of the bespoke artwork that we created for Joel and Louise enabling anyone who had a go to have immediate access.  Check out the full gallery here!
 If you'd like to have possibly the best Selfie Mirror Hire in Sussex at your event (we are a bit biased!!) then first thing to do is check out our availability here!
Until then we wish Joel and Louise every happiness for the future.
Venue: Buckhurst Park:   https://www.buckhurstpark.co.uk/weddings/
Band: Central Avenue:  Click here for their website!
Flowers: Ruby loves roses: Facebook Page click here!
Marquee: Camelot marquees: Website here!
Cake:  Charlotte (family friend)
If you are looking around at all the different options available to you for your Selfie Mirror Hire in Sussex, and are getting confused with the range of different companies available, take a look at our Top 10 Tips or alternatively, get in touch and request our free Useful Handy Hints and Tips Guide to choosing the right Selfie Mirror for your event.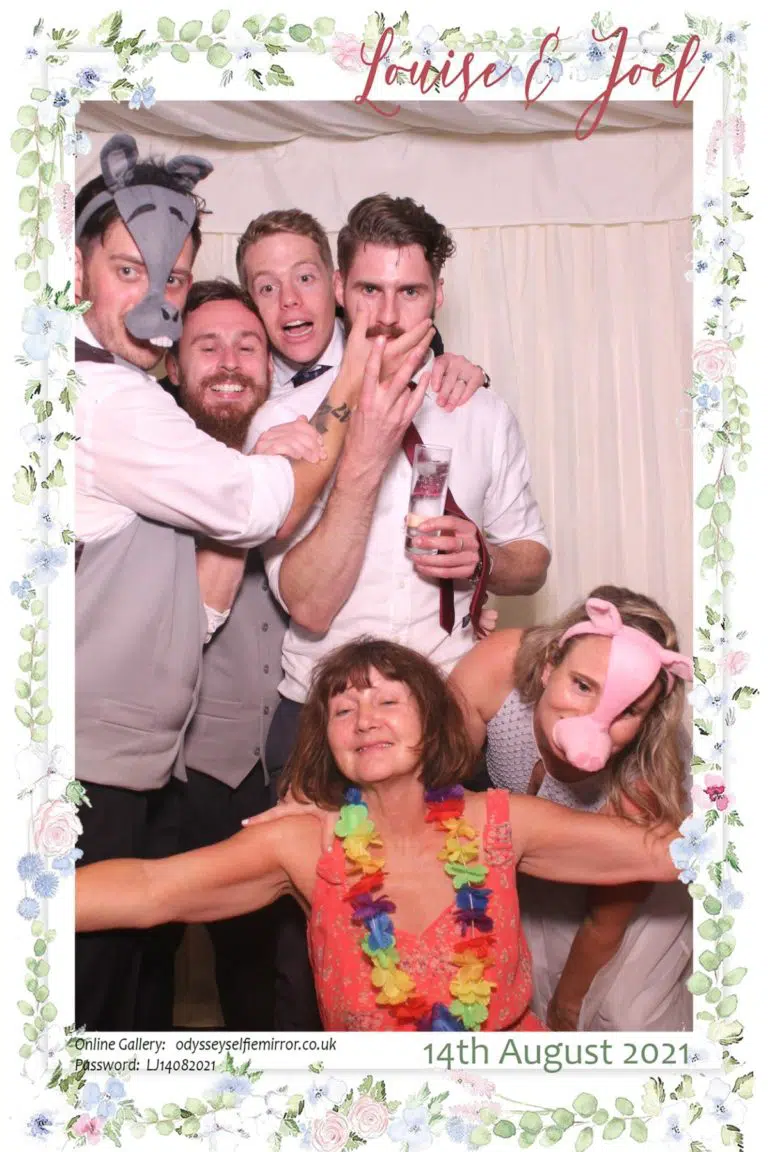 Check Availability Now!
Design the perfect Selfie Mirror Hire package for your event.